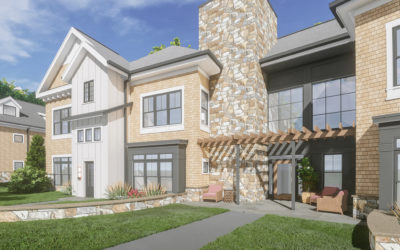 World Alzheimer's Day, on September 21, serves as a reminder that, in the 11 years since the World Health Organization declared dementia a public health priority, LiveWell, in Connecticut is one of only a few organizations in the United States that are investing in physical and societal...
Quinnipiac Nursing Professor Awarded $255K NIH/NIA Grant for Dementia Research Sheila Molony, professor in the School of Nursing at Quinnipiac, has been awarded a $255,873 National Institutes of Health/National Institute on Aging grant. The NIH/NIA grant is to fund "Holistic Evaluation to Advance...
Memory Book Project Unites Students, People Living With Dementia Most of us take our memories for granted. From happy times on vacation to sad times losing a pet, we accumulate memories from a young age and summon them at will. They are the essence of our lives. For some, the time will come when...
February 2020 LeadingAge CatalystLEADINGAGE CATALYST | FEBRUARY 26, 2020 | BY GENE MITCHELL Meet the LeadingAge Catalyst for February 2020: Stephani Shivers, chief operating officer, community services for LiveWell, Plantsville, CT. Leadership and Innovation in Dementia Services An occupational...
LiveWell of Southington continues to be the state leader for Dementia Friends Connecticut, and has been growing stronger as more and more local businesses and individuals join in on the initiative to make Southington dementia-friendly. According to some studies, 70% of people living with dementia...
Dementia resources at the libraryThe Southington Public Library is now offering free brain health and dementia resources consultations with Shazia Chaudhry from LiveWell Dementia Specialists every second Tuesday of the month. She will be located near the rear entrance of the library. Chaudhry is a...
Members of Dementia Friendly Southington and town staff visited the public library on Thursday, Sept. 19, to celebrate the library's new designation—being the first organization in town that has undergone Dementia Friendly training. "We all decided that we wanted to make sure that all of our...
LiveWell, library offers 'memory café' as new dementia resource The Southington Public Library, in partnership with LiveWell dementia specialists, are bringing a trending resource to town. Southington's own "memory café" will kick off on June 11 from 1 to 3:30 p.m. at the library. The monthly...
LiveWell leads awareness initiative The town of Southington is leading the way in the state of Connecticut in the nationwide initiative, "Dementia Friendly America." In partnership with LiveWell, formerly the Alzheimer's Resource Center, "Dementia Free Southington" is charting the maps for other...
LiveWell is leading the charge for 'Dementia Friendly Southington' There is a movement taking place in the town of Southington. It is a movement of understanding, of challenging perspectives, of creating space for others and letting them know there is support in the community. Dementia Friendly...